Read Time:
2 Minute, 3 Second
The government has promised to resettle Ol Moran skirmishes families who were displaced from their homes in one month's time.
According to Laikipia County Commissioner Joseph Kanyiri, the rebuilding of homes that were razed down by bandits a month ago at Kisii Ndogo village was at an advanced stage.
The County Commissioner revealed that once completed, the 42 families will benefit from a three-roomed house each.
He said that the first batch of 14 houses have already been roofed and were awaiting walling.
Mr Kanyiri who was speaking at Ol Moran Township when he supervised the distribution of various aids donations from the government said that every family will benefit with an upgraded house each.
The County Commissioner who also received building materials to be used in the construction of the houses, however, warned residents against burning their houses with an intention of having the government construct new ones for them.
He said that the government will make sure it has resettled everyone who was affected by the skirmishes noting that they have already received construction material with a capacity of constructing 100 houses.
A number of residents who fled their homes due to insecurity in the area a month ago have been camping at Ol Moran Township and other places including St Mark Ol Moran Catholic Church in Ol Moran town.
Mr Kanyiri expressed confidence with measures undertaken so far to restore calm.
He said there were enough security officers to deal with the menace and ensure that sanity is restored in the area once and for all.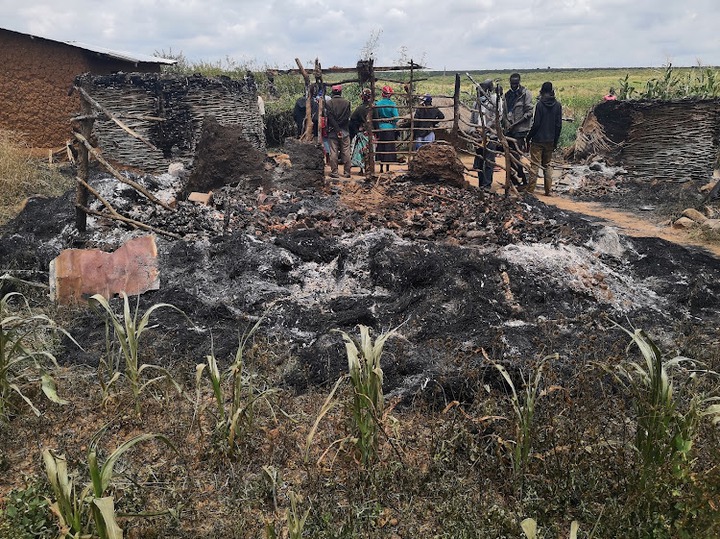 The administrator added that the Kenya Defense Forces have also embarked on development projects in troubled areas.
He said the projects include rehabilitating several dams, constructing new ones which will be used to provide water for both domestic, livestock, and wild animals.
He noted that the projects are part of government efforts to restore normalcy in Laikipia and avoid perennial clashes.
While calling for peaceful co-existence amongst the herders and farmers groups in the area, Kanyiri regretted that a number of livestock owners, bought guns for herders seeking grazing lands, saying that none will be spared in the efforts to restore peace in Laikipia county.
The residents, who received the items lauded the government move, regretting that they had even lost crops to the bandits who not only grazed their livestock on the farms but looted.