Human right activist Boniface Mwangi on Thursday morning came to the rescue of of one of the employee of Ovotox international collage located at Westland Haven court.
The Employee identified as Newton Mugo (baesquiat) on early morning tagged human right activist as well as the director of criminal investigation requesting him to help him get three-month salary arrears.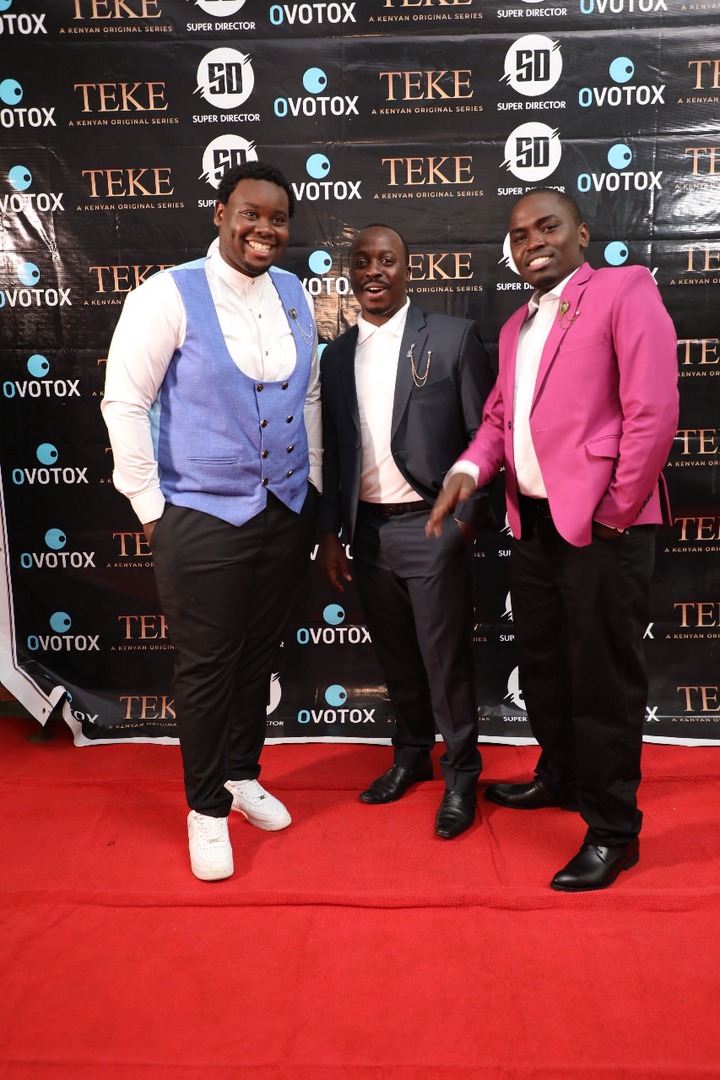 Tonie Kamau in pink coat during a past event with friends
The tweets almost attracted more than 500 reactions with Kenyans accusing the Chief Executive Officer of failure to pay his former employee and later intimidating him with law suits.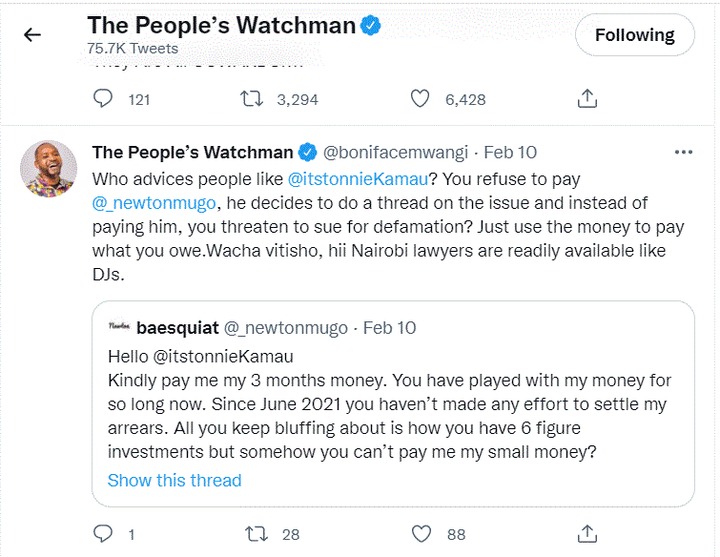 This is how @Newtone tweeter before catching the attention of online sympathises who bashed the CEO identified as Tonnie Kamau.
"Kindly pay me my 3 months' money. You have played with my money for so long now. Since June 2021 you haven't made any effort to settle my arrears. All you keep bluffing about is how you have 6 figure investments but somehow you can't pay me my small money?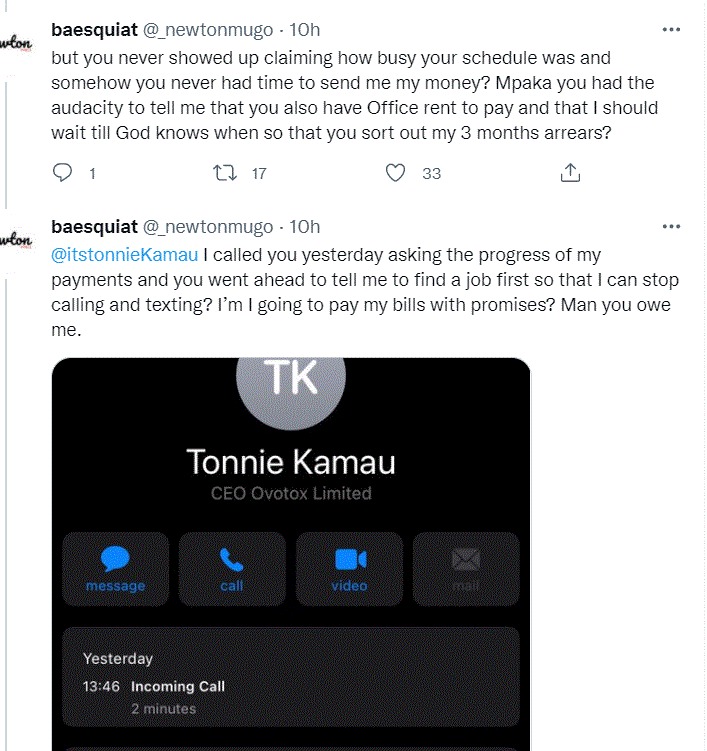 He added, "The first time I asked for my arrears you told me that your company is straining financially and that you will pay once you've broken even. This was the 6th of September as seen below. Still, the promise to pay in installments never sufficed,""
Mr Newton noted that, Mr Kamau has been giving out fake promises.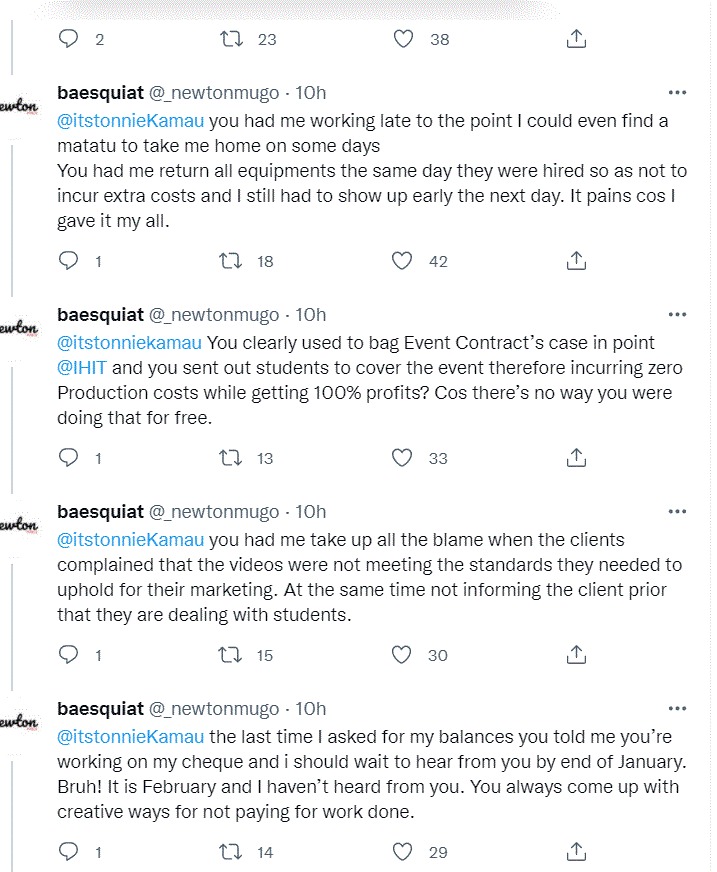 "You went on to make fake promises and excuses until you couldn't and you decided you will never pick calls or answer my messages till I decide to get what is rightfully mine using legal means. I sent you countless summons from the Ministry of labour,"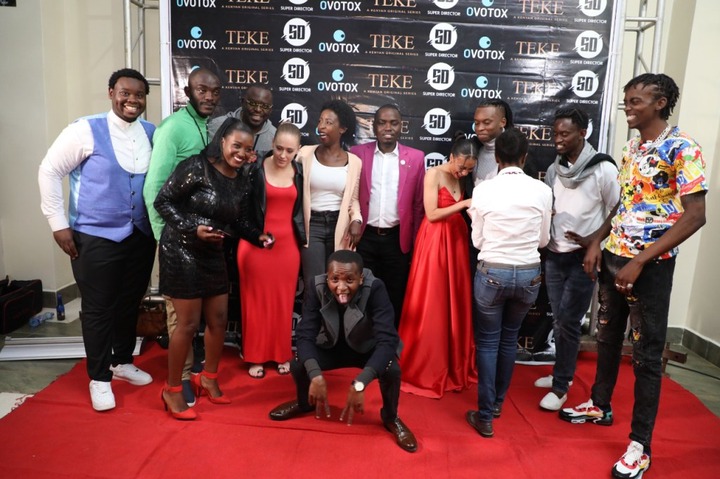 Tonnie Kamau in Pink coat posing with friends during a past event.
Reacting to the tweets, Boniface Mwangi said that failure for the Newton to get his money he would help him with a lawyer and file a case in Court.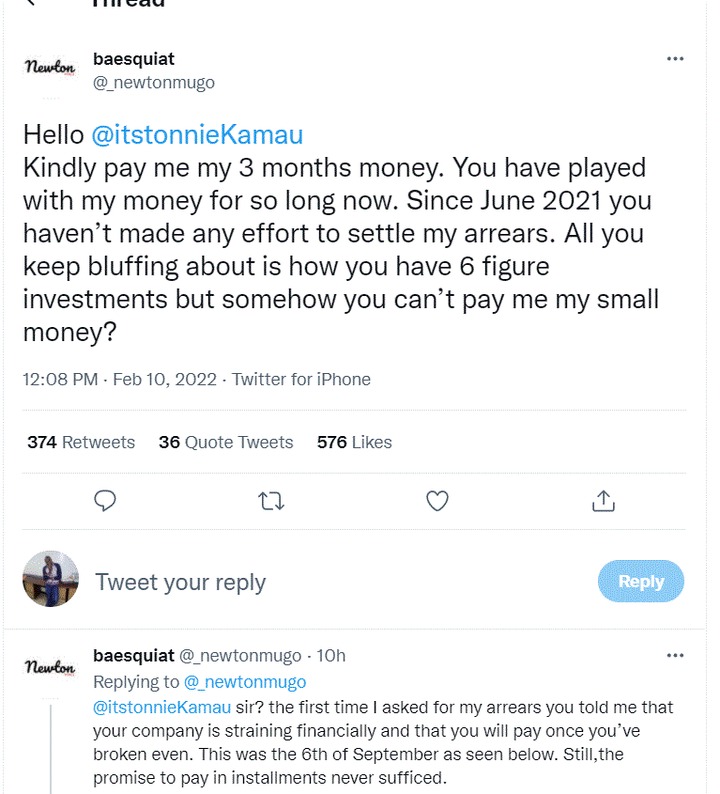 "Who advises people like @itstonnieKamau? You refuse to pay @_newtonmugo, he decides to do a thread on the issue and instead of paying him, you threaten to sue for defamation? Just use the money to pay what you owe. Wacha vitisho, hii Nairobi lawyers are readily available like DJs," Boniface Mwangi posted.
He further accused him of letting him work till late hours and giving out students' assignment paid by the clients.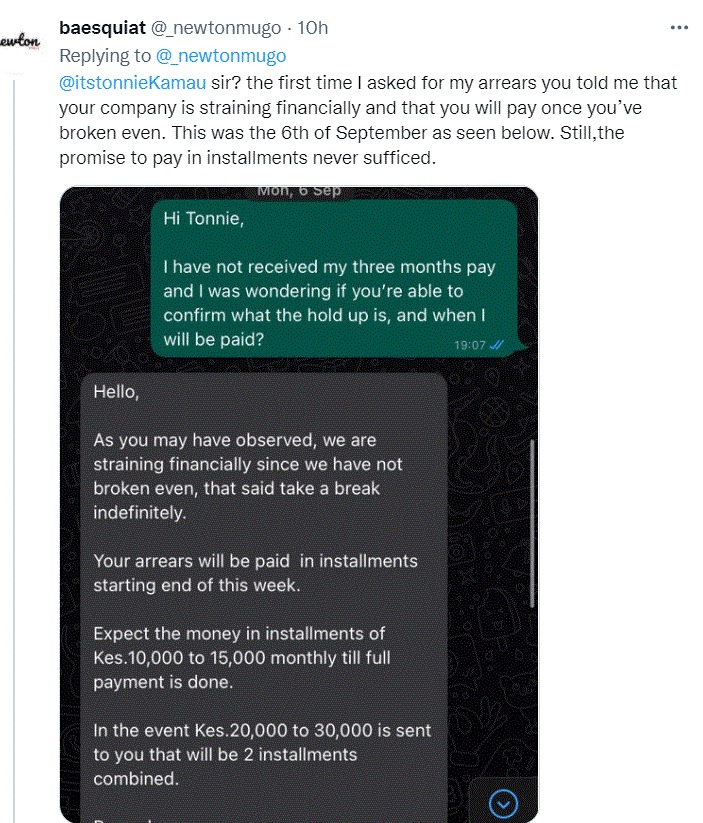 "You had me return all equipment the same day they were hired so as not to incur extra costs and I still had to show up early the next day. It pains cos I gave it my all, you clearly used to bag Event Contract's case in point and you sent out students to cover the event therefore incurring zero Production costs while getting 100% profits? Cos there's no way you were doing that for free, "he said.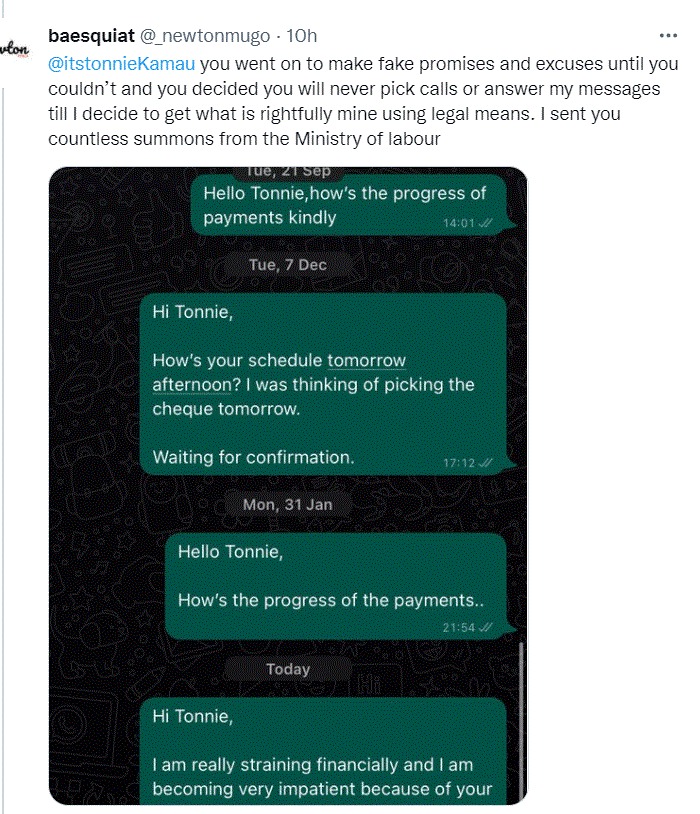 Mr Newton ended by claiming that he is poor and needs money to cater for his family.
"I am poor. Why are you refusing to pay me? I deserve to be paid for work done Bana. Kila mtu alikuja Nairobi kutafta. I never agreed to all these mental gymnastics. It's not right that I have to send paragraphs and countless calls ndio ulipe deni," he posted.
A reliable source and a former student from the institution told the writer that the management has been having issues.
The source said that some former staff were forced to leave the institution after they fell out with the boss.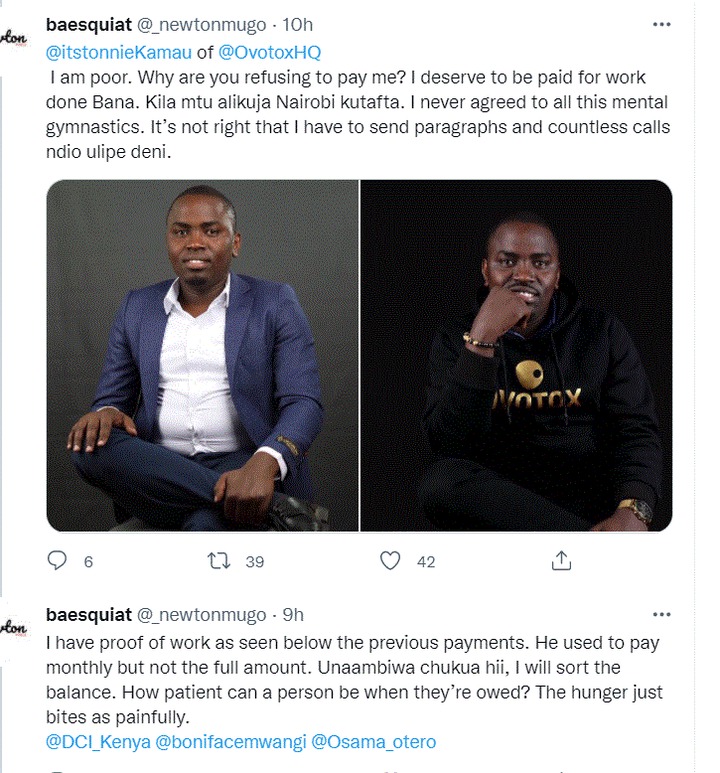 The move to contact the school through the contact on their website went in futile.
Through their website, the schools pride itself as international despite having only one branch.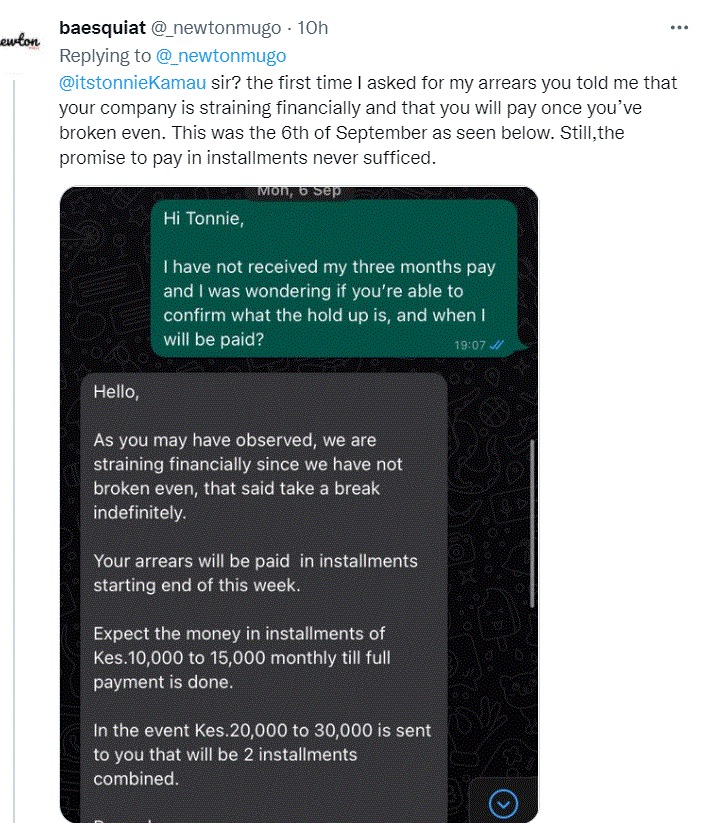 They had recently announced plans to partner with New York Film Academy to strengthen its media studies with a wider view to boosting local talent.
"Welcome to The Ovotox Group. We mentor and connect the African film community by creating relatable, realistic and compelling stories. Additionally, we give solutions to grow your business, "website reads.
The story was first published by opera news App