Read Time:
2 Minute, 23 Second
A new political outfit dubbed Kuungana Kujenga Kenya has been issued with an interim certificate by the registrar of political parties.
The party is owned by political activist Mr. David Kimengere, who is Sauti ya Mnyonge's Executive Director. He said the new outfit will champion social democracy, economic inclusivity, and human rights.
Mr. Kimengere had earlier petitioned the political leadership to change course and save Kenyans from "a costly process" at a time when the economy has taken a beating.
Sauti ya Mnyonge as he is known argued that it is laughable for leaders in the country to be pushing for a plebiscite when Kenyans are being ravaged by the deadly virus.
Speaking during an interview, Kimengere said that Kuungana Kujenga Kenya is the process of opening branches across the country and recruiting a membership as stipulated by the registrar of political parties.
He said that KKK Party would champion the rights of the youth and good governance in the country even as he dismissed claims that there were forces behind the formation of the new political outfit.
"I'm an independent person. We welcome any aspiring leader with political aspirations like ours to liberate Kenyans and make their voice heard across the globe, "he said.
The Party is currently mobilizing membership, with online and physical registrations ongoing.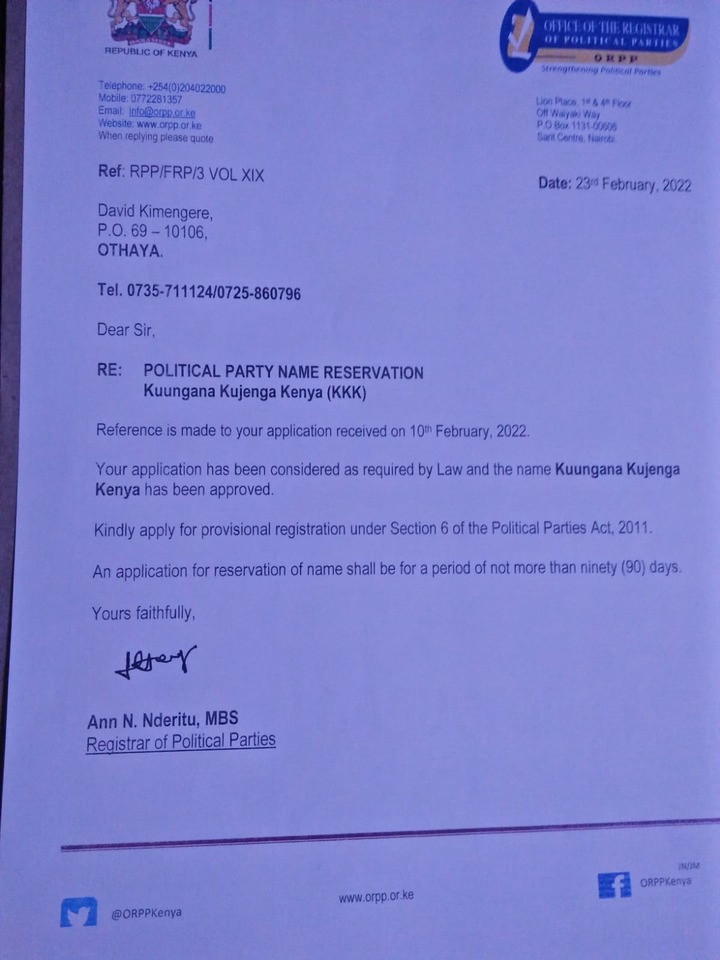 Sauti ya Mnyonge added that the new outfit has rolled out a vigorous grassroots mobilization and registration of members countrywide and called on Kenyans from all walks of life to join the party.
"It is time we consider a new paradigm shift on how we do our politics. Our party seeks to present equality in the eyes of the law, "he said.
He exuded confidence that the new political outfit would serve to inspire the coming generations with the right ideas.
"I would like to encourage every single Kenyan who has even dreamt of getting into the leadership of service, to go ahead and pursue that dream," he added.
He said that the party will focus on pushing for the agendas of the common Kenyan whom the politicians seem to have rejected and languishing in poverty.
According to the registrar of political parties, a party that has been provisionally registered shall, not later than one hundred and eighty days from the date of provisional registration, apply to the Registrar for full registration.
Last year, Registrar of Political Parties Ann Nderitu told the media that more than 22 political parties were issued interim certificates.
Some have already been fully registered and will field candidates in the August election.
A total of 75 political parties in Kenya are now fully registered with more awaiting full registration.
To be fully registered, parties are expected to recruit at least 1,000 members in at least 24 counties, open offices in the devolved units, and have their headquarters in one more county.