Renowned Dutch rally driver Bernhard ten Brinke in July 2021 moved to court after suspected Kenyan gold scammers made away with Ksh171.32 million from the coffers of two companies he owned.
Frank Wijnen and Ewout Haanstra, Brinke's representatives are reported to have signed a deal with Global Freight in Kenya on December 21, 2020, for the supply of 500 Kgs of gold worth Ksh171.34 million, and spent Ksh20 million of Brinke's money to charter a private plane to transport the gold.
Global Freight Management Limited is a Kenyan firm owned by George Fundu with which a deal was entered for the purchase of 500 Kgs of gold by Brinke's team. Fundu would have earned billions from the Dutch companies as there would have been more purchases in the future, bar the 500kgs. The 500kgs was to be the first of more purchases. Investigations by Assets Recovery Agency, the Ksh171.32 million was wired to 8 different entities, totaling to the amount.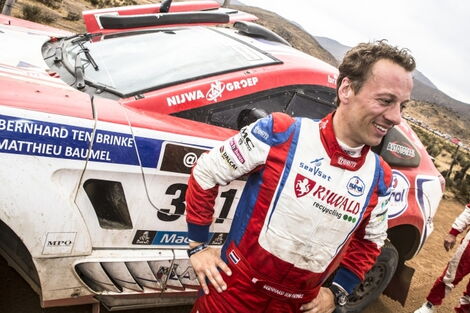 In the aftermath of Brinke's move to court, Elvis Ouma Muga is said to have been found to be the key driver and architect behind the suspected gold scam. Muga is also said to be the key beneficiary of the missing money and was charged with the offense by senior principal magistrate David Ndungi.
Muga, who goes by the alias name Nick, failed to raise the Sh5 million cash bail or Sh10 million bond and spent some days in police custody. The money reportedly wired to a bank account owned by Ochieng' Opiyo & Company Advocates, was intended to be used to cover different costs such as customs payment and storage costs.
According to the signed deal, Three Gold BV and  Bernhard ten Brinke Holding BV were to wire Ksh171.32 million to a bank account owned and operated by Ochieng' Opiyo & Company Advocates. Brinke is reported to have given a verbal directive to Ochieng for the release of the Ksh171.32 million to Fundu.
The Assets Recovery Agency (ARA) after being aware of the money transfer from Bernhard ten Brinke Holding BV in April of the same year, initiated an investigation of the source and movement of the funds, and found that some of the money had been wired from Ochieng' Opiyo & Company Advocates' bank account to different individuals.
In April, High Court judge Daniel Ogembo allowed the ARA to freeze six bank accounts that received Ksh53.9 million, with Ochieng' Opiyo & Company Advocates as the origin point for the funds.